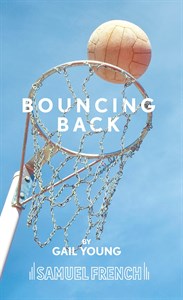 'Bouncing Back' follows a group of women returners to the game of Netball, the trials and tribulations of their training sessions, group bonding, getting sponsorship, tough coaching, and the stress of organising 'me time'. Will the team get fitter? Will they ever win a game? Will the coach ever find true love? And why do they all worship someone called Tracey?
This play premiered 29th June to 2nd July 2016 at The Forum Studio Theatre in Chester, receiving a huge amount of interest and feedback from the Netball Community and the wider public up and down the country.
'Bouncing Back' was published by Samuel French in May 2017, and is available for performance.
See the following link for full details www.concordtheatricals.co.uk/p/61848/bouncing-back.

2019 - BOUNCING BACK RETURNED TO THE NORTH WEST OF ENGLAND!
To celebrate the fact that the Netball World Cup came to Liverpool in 2019, Gail Young Productions staged 'Bouncing Back' at both the Storyhouse in Chester and the Royal Court Theatre in Liverpool.
Reviews and audience reactions
AMBLE. Julia Murphy. 30/5/2019
After a successful premiere in 2016, Bouncing Back is – well, back! In those three years, netball as an international sport has become more prominent, with the Netball World Cup being held in Liverpool this year. But my initial impression of a play about netball was, admittedly: will there be many bouncing balls?
There's a few. And the first act's set of P.E. benches may have induced the shudder of gym lessons past when I first took my seat. But this is more than an amusing play about a disparate group of women coming together to let off steam, get fit and have fun. And certainly, the audience were chortling throughout, especially at the first circuit training session.........These are characters dealing with familiar issues, and their struggle is real: to become independent of those dependent on them for a couple of hours a week, and to become a team. It certainly resonated with the audience, the majority of whom were female. And if you want to know how on earth you stage a netball match for an audience… well, get yourself along to Storyhouse before this Saturday and witness the pivoting in skilfully coordinated motion........
WE ARE CHESTER. Angela Ferguson 4/6/2019
Gail first staged Bouncing Back, focusing on a group of women returners to netball, at Chester's Forum Studio Theatre in 2016. Since 2019 sees the Netball World Cup taking place in Liverpool, she decided that it was time to bring the play back and she has also directed this particular production..........Netball was a natural choice of topic for Gail, whose younger sister is a netball coach and PE teacher. Gail's research for writing the play included observing training sessions with the Golborne Back 2 Netball initiative, helping her to devise this inspirational and uplifting look at the trials and tribulations of a group of women deciding to get back into the sport after a number of years. And we in the audience certainly enjoyed some slick team work unfolding in front of us, with some astounding takes on the ups and downs of being in a netball team. The choreography really was something to behold as we were drawn into the drama, both on and off the court. Well done to all of the talented cast and crew, including movement coach Harriet Feeny, for producing such a moving comical masterpiece.......We give Bouncing Back a goaltastic score of five stars.
Chester Audience reactions
I have met all those characters playing netball, made good friends and had fun, really enjoyed the play left me feeling quite nostalgic still love the game !!! Will be at the World Cup xxx'
'I went to see Bouncing Back on Wed's night with a group of Walking Netball players from David Lloyds It was funny and lively with great characters and references l could relate to. It was a fun night out and l would recommend it people. Go and see it ! Betty x'
'I was one of the David Lloyds group and can confirm that we all thoroughly enjoyed the play and wouldn't hesitate in recommending it as a really fun night out. Margaret x'
'Great night out at Bouncing Back. Lots of laughs and a great advertisement for netball x'
'Very funny and accurate reflection of so many netball teams and their crazy netballers.'
'Saw this very funny play last night at Royal Court Liverpool. Really enjoyed it choreography was brilliant and very clever. Another Gail Young special.'
' Gail Young! WHAT a fabulous play we have just been privy to watching. BOUNCING BACK at the Forum in Chester was well worth the little trip over ......It was entertaining emotional fun interactive and above all else an absolute pleasure to watch. Highly recommend one and all. Well done Gail and all the cast '
Chelmsford Theatre Workshop. Audience review. June 2022
'I came from Elstree Herts to see this wonderful play.......Absolutely Fantastic! I so enjoyed it. If I could single out one performer (and hope the other cast members don't mind!) Debbie Miles playing Asbo was amazing. A future star! ........It was well worth the trip to see this wonderful play. A sensational cast who were directed superbly by Iain Holding Sutton whom I had a lovely chat with before and after the show......'
Finally
A Big Shout out goes to the teams who agreed to act as Gail's research material for the play ie the Golborne Gulls, the Golborne Hawks and the Golborne Eagles. They are all part of the Golborne Back 2 Netball initiative.

Thanks Ladies - It's been a blast !
xxx